How to protect your solar rooftop system from lightning in monsoon season
Modern-day solar rooftop systems are tough. They are safe from almost anything that can destroy them or impair their functionality to generate electricity. There are very few things or certainly 2 or 3 that can hard-hit the solar rooftop systems and destroy them. 
One of the major threats to your rooftop solar system can be a lightning strike. The lightning strikes are so strong that they completely destroy the solar rooftop system installed at your place.
But with modern technology, there's nothing to worry about. We have the solution for that. Now, these solution doesn't guarantee the safety of the solar rooftop systems completely, but they are proven to nullify the damage or minimize the damage caused by lightning strikes in most cases. 
So below are some of the ways you can rely on for the safety of your solar rooftop system from the lightning strike this monsoon season.
1. Install the lighting rods
 "Lightning rod systems" are specifically designed systems with different components as shown in the image below. The lightning rods ensure that any lightning strike happening in the area surrounding the solar rooftop system is attracted towards it.
After attracting it, it passes the current directly to the ground which avoids any kind of short circuit or any other damage nullifying all the damages that the lightning strike would have done.
Modern solar rooftop systems have this installed by default. If you are getting your solar rooftop system installed from a premium solar dealer like SaySolar then you get these systems installed by default and you don't have to worry about anything afterward.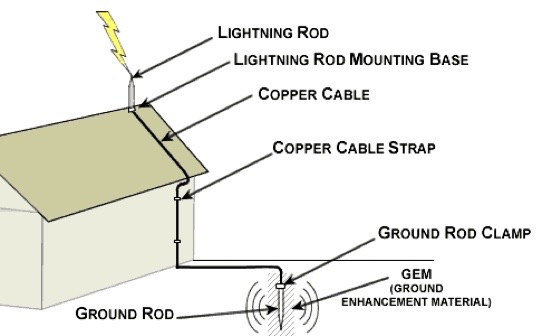 Lightning arrestors are a special type of component installed on rooftop solar panels which are used in high lighting areas. They are specifically designed to absorb all the voltage from the lighting storm or the strike if anything is left on the surface after being caught by the lightning rod. 
This way the lightning arrestors make sure that there's no short-circuiting due to the high voltage and high electric flux caused due to lightning. Lightning arresters are available with a wide range of configuration that involves different voltage reading arrestors for different current types both AC & DC. 
3. Grounding the power circuits 
It has now become almost mandatory for modern-day homes especially in urban areas to ground their DC voltage and AC voltage both at a single point for one complete system. Grounding the power circuits ensures that the excess power flows through the ground leaving no damage or electricity leakage anywhere to protect the complete system from the damage. 
The negative DC & natural AC nodes are essentially grounded for the same purpose in every grid system. Some manufacturers of stand-alone systems make their way that doesn't allow the grounding thus you should be aware of that before choosing and installing such systems. 
These were the major modern systems used to protect you and your rooftop solar systems from a lightning strike. If you are looking to install these then go ahead, make a decision now and secure your solar rooftop system. 
If you have not yet installed the solar rooftop system for your home then feel free to contact us and get it installed from one of the most premium solar rooftop system installation companies.
We are here to answer any question you may have. Feel free to reach via contact form.
J/FF-13, Laxmivilla Green Opp. Shalby Hospital Nava Naroda, Gujarat - 382330 India