Industrial Solar Rooftop Solutions in Ahmedabad
A premier Industrial solar panel installation service provider in Ahmedabad
Industrial Solar Rooftop Panel in Ahmedabad
Renewable power sources, specifically solar power, have been making their foundations increasingly strong for Industrial use. Modern-day solar rooftop solutions for industrial organizations have become great speculation for industrial players. Those already using industrial solar power solutions consider it an excellent choice over native grid electricity.

With modern technology and hybrid systems, you can have any part of the organization running entirely. Solar power saves you a lot of money and enables your business to contribute to green.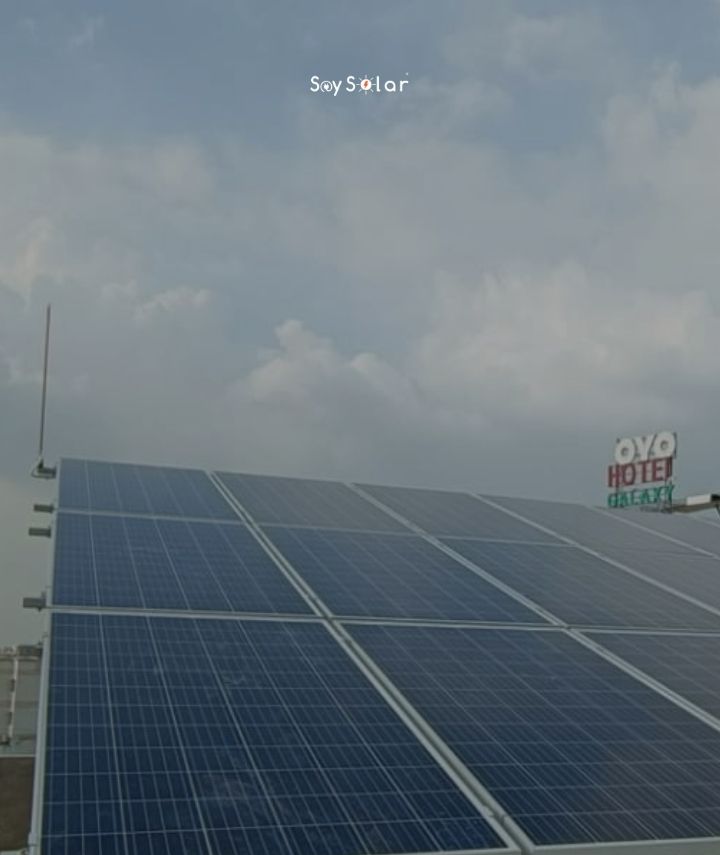 Benefits of solar rooftop solution for industrial users
Solar rooftop panels have been a revolutionary integration for Industrial entities, here are some of the major benefits.
Solar energy is the future
Marching towards solar revolution
Looking at data on solar energy capacity and utility in India from 2009 to 2022, it shows that we have marched from 69 Megawatts to 39211 Megawatts capacity in solar energy generation.
This clearly shows us that our country if not the world, is moving towards a solar revolution, and soon almost every business will have to be reliant on solar energy for energy needs.
Don't lag behind in the race, install solar rooftop panels for commercial use now.
Be a part of the solar revolution
Install Solar Panels and Save Energy, Now.
Why Choose Saysolar for your Industrial solar installation needs?
We are here to answer any question you may have. Feel free to reach via contact form.
J/FF-13, Laxmivilla Green Opp. Shalby Hospital Nava Naroda, Gujarat - 382330 India
Frequently Asked Questions
A typical solar panel array is roughly 5kW in size and takes up about 400 square feet of space. An array of this size may generate 350-850 kWh of AC electricity per month on average.
There are many advantages of using solar energy in industry; these are the main benefits of using solar energy in Industry.
1. To reduce electricity bills and complement grid power
2. To achieve sustainable manufacturing.
3. To preserve energy.
4. Take steps to reduce carbon emissions
5. Use free electricity and sell the surplus
Monocrystalline panels
Monocrystalline panels are the most effective solar panels for solar energy conversation with around 20-22% conversation rate. As a result, Monocrystalline panels are widely use in industry for solar energy generation.